Limnodynastes dumerili
Eastern Banjo Frog
Pobblebonk
Also: Eastern Pobblebonk, Four-bob Frog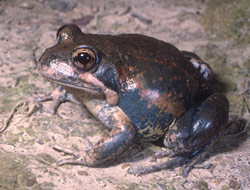 + 54 kb Pobblebonk (Limnodynastes dumerili)
This common and widespread burrowing frog may often be found in large numbers at night, particularly after rain.
Distribution and habitat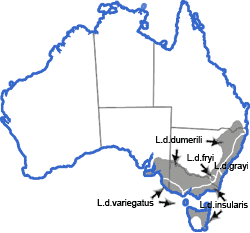 Adults frequent all habitats with the exception of alpine areas, rainforest, and extremely arid zones. Eggs and tadpoles inhabit still water in swamps, streams, dams, and lakes.
There is a detailed distribution map available for: Victoria.
Calling
Males usually call concealed in floating vegetation or less commonly from land at the water's edge. The call is a short musical, explosive note producing a resonant "bonk". The call is usually repeated every few seconds. Some individuals from eastern populations can produce a rapid series of "bonk bonk bonk bonk" lasting about one second.
Copyright Murray Littlejohn. Recorded by Murray Littlejohn. Must not be reproduced without permission.
Life cycle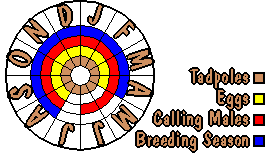 Distinguishing characteristics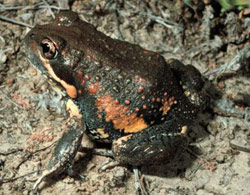 + 64 kb Pobblebonk (Limnodynastes dumerili)
Adult length: 50-85mm.
Up to 4000 pigmented eggs are enclosed in a large (1200 - 1800mm diameter) white frothy floating foam raft usually concealed in aquatic vegetation. Tadpoles are large, dark brown or black and the fins are dark grey/brown. The fins and sometimes body are flecked with darker spots or flecks. Adults have a prominent tibial gland, a fleshy metatarsal tubercle and a smooth white or mottled belly.
Visible features
Presented here is the information stored in the frogs.org.au database which is used to identify frogs based on their appearance. It is intended to be used in a key guide for separating species so some of the information (for example, back colours) may be rather non-specific. The system is currently being developed - if you notice errors in the data, please write to Dave Black at the address at the bottom of the page.
Important note: This information details only the appearance of the frog. If an "or" appears in the description, this may mean either that there is some variation within the species or that the feature might be observed differently by different people. For example, if a frog has very small toe pads, it may be listed as having "Toe pads: present or absent".
Size
Up to between 60mm and 90mm
Eyes, hands, and feet
Pupils: horizontal
Toe pads: absent
Webbing on feet: no webbing
Belly
Texture: smooth
Pattern: plain or marbled
Colour: single colour or multi-coloured with only black, grey, and white
Back
Texture: smooth or warty
Pattern: plain or spotted or striped or mixed / marbled
Colour: multi-coloured
Glands and tubercles
Parotoid gland: absent
Tibial gland: present
Metatarsal tubercles: Non-keratinised glands present (fleshy or uncoloured)
Subspecies
Five subspecies of Limnodynastes dumerili are recognised: L. dumerili dumerili in south-eastern South Australia, central and northern Victoria, parts of New South Wales, and in south-east Queensland; L. dumerili grayi from the central coast of New South Wales; L. dumerili fryi in the Snowy Mountains; L. dumerili insularis in south east Victoria and Tasmania; and L. dumerili variegatus in south-western Victoria and south-eastern South Australia.
The scientific names of Limnodynastes dumerili
Alternate spelling: Limnodynastes dumerilii
Limnodynastes (Platyplectron) dumerilii (Peters 1863)
Limnodynastes bibronii (Kref[f]t 1865)
Platyplectrum superciliare (Keferstein 1867)
Heliorana grayi (Steindachner 1867)
Limnodynastes dorsalis insularis (Parker 1940)
Limnodynastes dumerilii variegatus (Martin 1972)
Limnodynastes dumerilii fryi (Martin 1972)
Limnodynastes dumerili (Peters 1863)