Heleioporus australiacus
Giant Burrowing Frog
Also: Eastern Owl Frog
+ 53 kb Giant Burrowing Frog (Heleioporus australiacus)
One of our largest frogs, and a burrower. The males of this species possess large black spines and thorns on their fingers, arms, and chests to aid in gripping the slippery female whilst spawning. This armoury may also be used in male combat.
Distribution and habitat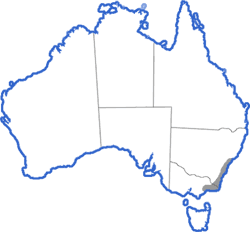 Adults are found in wet and dry forest and woodlands. The Great Burrowing Frog usually spawns in a small water-filled burrow or under thick vegetation in dams, ditches, and slow flowing streams. The tadpoles hatch and escape when the water rises to flood the burrow.
There is a detailed distribution map available for: Victoria.
Calling
Males call from streambanks or burrows in the streambank. The call is a soft, resonant, very low pitched owl-like call - "ou-ou-ou-ou-ou" - lasting a second or two.
Copyright Murray Littlejohn. Recorded by Murray Littlejohn. Must not be reproduced without permission.
Life cycle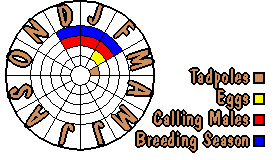 Distinguishing characteristics
Adult length: 60-100mm.
Between 750 - 1250 unpigmented eggs are laid in a foam mass. Tadpoles are grey and have grey fins with light flecks. Adults are usually dark with yellow "warts" on their sides and a fleshly unpigmented metatarsal tubercle.
Visible features
Presented here is the information stored in the frogs.org.au database which is used to identify frogs based on their appearance. It is intended to be used in a key guide for separating species so some of the information (for example, back colours) may be rather non-specific. The system is currently being developed - if you notice errors in the data, please write to Dave Black at the address at the bottom of the page.
Important note: This information details only the appearance of the frog. If an "or" appears in the description, this may mean either that there is some variation within the species or that the feature might be observed differently by different people. For example, if a frog has very small toe pads, it may be listed as having "Toe pads: present or absent".
Size
Up to greater than 90mm
Eyes, hands, and feet
Pupils: vertical
Toe pads: absent
Webbing on feet: no webbing
Belly
Texture: smooth
Pattern: plain
Colour: single colour
Back
Texture: rough or warty
Pattern: plain or spotted
Colour: multi-coloured
Glands and tubercles
Parotoid gland: absent
Tibial gland: absent
Metatarsal tubercles: Non-keratinised glands present (fleshy or uncoloured)
Similar species
(note: this version was written for Victorian species).
Distinguished from similar frogs in the genus Limnodynastes by having a vertical pupil and no tibial gland. May easily be distinguished from frogs in the genus Neobatrachus by having an unpigmented (rather than black) metatarsal tubercle.
The scientific names of Heleioporus australiacus
Rana australiaca (Shaw & Nodder 1795)
Rana spinipes (Schneider 1799)
Philocryphus flavoguttatus (Fletcher 1894)
Heleioporus australiacus (Shaw & Nodder 1795)