Frogs of Australia
This is the definitive guide to the frogs of Australia, providing descriptions, distributions, images, breeding calls, and more for every frog in Australia. That's the plan, anyway (and we're well on the way).

Regional guides
Discover the regions of your state then find the frogs of a particular region.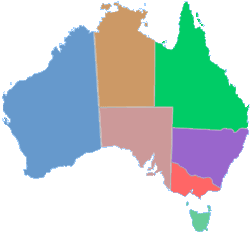 Frogs of ...
Jump straight in and discover ALL the frogs of your state.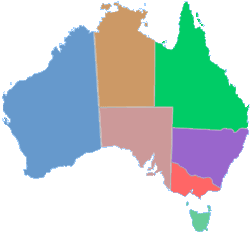 Latest news
All of Australia's frogs are listed with taxonomy (family/genus/species) and common names. Region guides are complete for every state. All frogs have distribution maps! Field guide entries are available for all frogs. More than two thirds of the frogs have an image and many frogs have multiple images showing all stages of their life cycle.
Frogs of Victoria
Frogs of Victoria is no more - but wait, we've retained the "Key guide to Victorian frogs" as this will not be expanded to a national key.
Key guide to Victorian frogs
The "Frogs of Victoria" project features a "key" to aid in the identification of a frog. At each question of the key, there are two alternative statements (A or B) - choosing the one which best describes the frog leads to a further question until, finally, the frog is identified. It is designed to be used with the Glossary.
Use the key to identify a Victorian frog or, if you don't have enough information for the key, simply check out all the frogs in your region.