Litoria ewingi
Southern Brown Tree Frog
Also: Brown Tree Frog, Ewing's Tree Frog, Whistling Tree Frog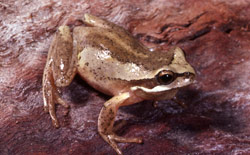 + 47 kb Southern Brown Tree Frog (Litoria ewingi)
A widespread and common species found in great numbers in flooded grassland or marshes. An agile climber and jumper. Like most of our small tree frogs, this species is a voracious insectivore capable of leaping to catch a fly in mid-flight!
Distribution and habitat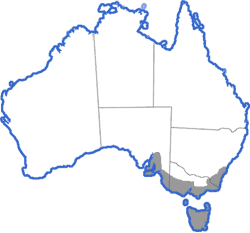 Adults can be found in all habitat types, and are even common in gardens in suburban areas. They frequent wet and flooded areas for breeding but can often be found calling long distances from water. Eggs and tadpoles can be found in still water in ponds, dams, lakes, streamside ponds and flooded roadside ditches.
There is a detailed distribution map available for: Victoria.
Calling
Males usually call from the ground or in low vegetation, at the water's edge or in water, floating amongst the vegetation. The call is a series of rapid harsh, whirring pulsing notes repeated 5-15 times - "creeeeeee creee creee cree cree cree". The first note is usually the longest.
Copyright Murray Littlejohn. Recorded by Murray Littlejohn. Must not be reproduced without permission.
Life cycle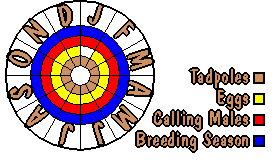 Distinguishing characteristics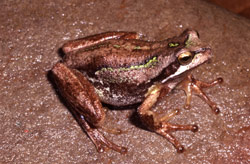 + 59 kb Litoria ewingi photographed at Cann River in East Gippsland, Victoria showing flecks of green.
Adult length: 25-45mm.
500 - 700 pigmented eggs in jelly clumps are usually attached to submerged vegetation. The tadpoles are pale golden-yellow to dark grey and the fins are usually clear. The adults have pale fawn, cream, orange, or light brown sides. Breeding males have a light brown vocal sac. Occasionally green individuals, or partially green individuals, are found in western Victoria and South Australia.
Visible features
Presented here is the information stored in the frogs.org.au database which is used to identify frogs based on their appearance. It is intended to be used in a key guide for separating species so some of the information (for example, back colours) may be rather non-specific. The system is currently being developed - if you notice errors in the data, please write to Dave Black at the address at the bottom of the page.
Important note: This information details only the appearance of the frog. If an "or" appears in the description, this may mean either that there is some variation within the species or that the feature might be observed differently by different people. For example, if a frog has very small toe pads, it may be listed as having "Toe pads: present or absent".
Size
Up to between 30mm and 60mm
Eyes, hands, and feet
Pupils: horizontal
Toe pads: present
Webbing on feet: half-webbing
Belly
Texture: smooth
Pattern: plain
Colour: single colour
Back
Texture: smooth or rough
Pattern: plain or striped or mixed / marbled
Colour: single colour or multi-coloured
Glands and tubercles
Parotoid gland: absent
Tibial gland: absent
Metatarsal tubercles: Non-keratinised glands present (fleshy or uncoloured) or absent
Similar species
(note: this version was written for Victorian species).
Best distinguished from Litoria paraewingi by use of call and distribution, and from Litoria verreauxi by having pads a little wider than its digits and by the absence of large black or dark blotches in its groin. Distinguished from Litoria lesueuri by having a hidden or indistinct tympanum.
Litoria ewingi image gallery
The scientific names of Litoria ewingi
Alternate spelling: Litoria ewingii
Hyla ewingii (Dumeril & Bibron 1841)
Hyla parvidens (Peters 1874)
Hyla calliscelis (Peters 1874)
Hyla inguinalis (Ahl 1935)
Hyla ewingii iuxtaewingii (Copland 1957)
Litoria ewingi (Dumeril & Bibron 1841)