Litoria aurea
Green and Golden Bell Frog
Also: Green and Golden Grass Frog
+ 60 kb Green and Golden Bell Frog (Litoria aurea)
A regionally common frog that preys upon other frogs, actively locating them by their advertisement calls. It is also one of the few frogs known to be active by day and actually bask in the sunlight.
Distribution and habitat
Adults are usually found close to, or in water or very wet areas in forests, woodlands, shrublands and open or disturbed areas. The eggs and tadpoles can be found in permanent lakes, swamps and dams with still water.
There is a detailed distribution map available for: Victoria.
Calling
Males usually call while floating in open water. The call is a long growl of several second duration followed by a series of short grunts - "cr-a-a-aw-a-a-awk cra-a-a-awk crok crok" - like a revving motorcycle.
Copyright Murray Littlejohn. Recorded by Murray Littlejohn. Must not be reproduced without permission.
Life cycle
Distinguishing characteristics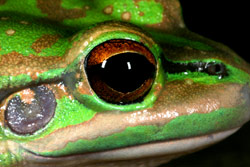 + 47 kb Green and Golden Bell Frog (Litoria aurea)
Adult length: 55-100mm.
The eggs are pigmented and contained within a floating jelly raft which later breaks up and sinks. The tadpoles are pinkish-grey with yellowish fins. Adults are bright emerald to dull olive green with or without brown and gold blotches. They have a smooth back, a dorso-lateral fold, and a distinct tympanum (ear).
Visible features
Presented here is the information stored in the frogs.org.au database which is used to identify frogs based on their appearance. It is intended to be used in a key guide for separating species so some of the information (for example, back colours) may be rather non-specific. The system is currently being developed - if you notice errors in the data, please write to Dave Black at the address at the bottom of the page.
Important note: This information details only the appearance of the frog. If an "or" appears in the description, this may mean either that there is some variation within the species or that the feature might be observed differently by different people. For example, if a frog has very small toe pads, it may be listed as having "Toe pads: present or absent".
Size
Up to greater than 90mm
Eyes, hands, and feet
Pupils: horizontal
Toe pads: present
Webbing on feet: half-webbing or full-webbing
Belly
Texture: rough
Pattern: plain
Colour: single colour
Back
Texture: smooth
Pattern: plain or spotted or striped or mixed / marbled
Colour: single colour or multi-coloured
Glands and tubercles
Parotoid gland: absent
Tibial gland: absent
Metatarsal tubercles: absent
Similar species
(note: this version was written for Victorian species).
Litoria aurea is often confused with Litoria raniformis, from which it is easily distinguished by having a smooth back while Litoria raniformis has a warty back.
Litoria aurea image gallery
The scientific names of Litoria aurea
Rana aurea (Lesson 1829)
Ranoidea jacksoniensis (Tschudi 1838)
Ranoidea resplendens (Girard 1853)
H[yla] jacksonii (Dumeril, Bibron & Dumeril 1854)
Fanchonia elegans (Werner 1893)
Hyla blandsuttoni (Procter 1924)
Hyla aurea ulongae (Loveridge 1950)
[Hyla] [aurea] ulongensis (Loveridge 1950)
Litoria aurea (Lesson 1829)