Assa darlingtoni
Pouched Frog
Also: Hip-pocket Frog, Marsupial Frog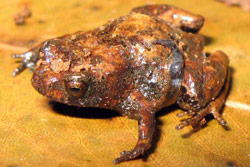 + 51 kb A male Pouched Frog (Assa darlingtoni), showing a metamorph emerging from the "hip pocket".
Distribution and habitat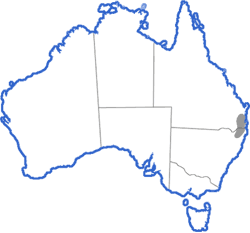 Visible features
Presented here is the information stored in the frogs.org.au database which is used to identify frogs based on their appearance. It is intended to be used in a key guide for separating species so some of the information (for example, back colours) may be rather non-specific. The system is currently being developed - if you notice errors in the data, please write to Dave Black at the address at the bottom of the page.
Important note: This information details only the appearance of the frog. If an "or" appears in the description, this may mean either that there is some variation within the species or that the feature might be observed differently by different people. For example, if a frog has very small toe pads, it may be listed as having "Toe pads: present or absent".
Size
Up to less than 30mm
Eyes, hands, and feet
Pupils: horizontal
Toe pads: absent
Webbing on feet: no webbing
Belly
Texture: smooth
Pattern: plain
Colour: single colour
Back
Texture: rough
Pattern: plain or striped
Colour: multi-coloured
Glands and tubercles
Parotoid gland: absent
Tibial gland: absent
Metatarsal tubercles: absent
Assa darlingtoni image gallery
Eggs and egg masses (embryonic stage)
The scientific names of Assa darlingtoni
Crinia darlingtoni (Loveridge 1933)
Assa darlingtoni (Loveridge 1933)