Limnodynastes tasmaniensis
Spotted Marsh Frog
Also: Spotted Frog, Spotted Grass Frog
+ 55 kb Spotted Marsh Frog (Limnodynastes tasmaniensis)
One of the most common frogs within its range. The frog is usually found in association with water, and in dry periods shelters in cracks in the ground, usually under large rocks.
Distribution and habitat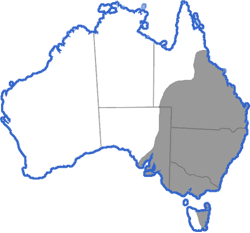 Adults are most often associated with wet areas, flood plains, and semi-permanent water in habitats ranging from open forests and woodlands through shrublands and grasslands and including open and disturbed areas. Often common on farms and in farms dams. Eggs and tadpoles can both be found in still water in dams, streamside ponds, lakes, swamps, and flooded grasslands.
There is a detailed distribution map available for: Victoria.
Calling
Males call while floating in water, most often concealed in floating vegetation. There are two call races for this species. The northern call race (central, northern, and eastern Victoria) has a short staccato call of three or four distinct notes repeated in long series - "kuk-kuk-kuk".
Copyright Murray Littlejohn. Recorded by Murray Littlejohn. Must not be reproduced without permission.
The southern call race (western and south-eastern Victoria) has a single sharp call - "click" or "plock" - similar to the sound made when two stones are struck together.
Copyright Murray Littlejohn. Recorded by Murray Littlejohn. Must not be reproduced without permission.
Life cycle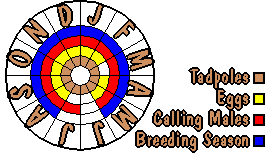 Distinguishing characteristics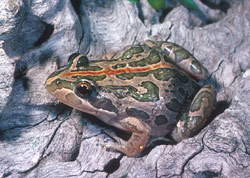 + 61 kb Spotted Marsh Frog (Limnodynastes tasmaniensis)
Adult length: 30-47mm.
80 to 1500 pigmented eggs are contained within a floating foam mass measuring between 50 and 80mm in diameter. Tadpoles are olive grey, dark grey, or black, and the fins are usually semi-transparent or light grey. Adults usually have large regularly-shaped olive green blotches on the back and sometimes have a yellow, red, or orange mid-dorsal stripe.
Visible features
Presented here is the information stored in the frogs.org.au database which is used to identify frogs based on their appearance. It is intended to be used in a key guide for separating species so some of the information (for example, back colours) may be rather non-specific. The system is currently being developed - if you notice errors in the data, please write to Dave Black at the address at the bottom of the page.
Important note: This information details only the appearance of the frog. If an "or" appears in the description, this may mean either that there is some variation within the species or that the feature might be observed differently by different people. For example, if a frog has very small toe pads, it may be listed as having "Toe pads: present or absent".
Size
Up to between 30mm and 60mm
Eyes, hands, and feet
Pupils: horizontal
Toe pads: absent
Webbing on feet: no webbing
Belly
Texture: smooth
Pattern: plain
Colour: single colour
Back
Texture: smooth or warty
Pattern: spotted or striped or mixed / marbled
Colour: multi-coloured
Glands and tubercles
Parotoid gland: absent
Tibial gland: absent
Metatarsal tubercles: Non-keratinised glands present (fleshy or uncoloured)
Similar species
(note: this version was written for Victorian species).
Most often confused with Limnodynastes fletcheri, the call is the only real reliable method of identification. In regions where L. fletcheri occurs, the following three methods can be employed to distinguish the species with some success: [1] the spots and blotches on the back of L. tasmaniensis tend to be regularly shaped with smooth borders while those of L. fletcheri tend to be irregularly shaped with obscure and fuzzy edges and are often interspersed with dark flecks and peppering; [2] a small red or orange patch on the upper eyelid is often present in L. fletcheri but is extremely rare in L. tasmaniensis; and [3] L. fletcheri usually has a butterfly-shaped blotch between the eyes while in L. tasmaniensis this marking is unlikely to occur.
Limnodynastes tasmaniensis image gallery
Metamorphlings
Eggs and egg masses (embryonic stage)
The scientific names of Limnodynastes tasmaniensis
Rana pustulosa (Peron 1807)
Limnodynastes affinis (Gunther 1863)
Limnodynastes platycephalus (Gunther 1867)
Limnodynastes peronii rugulosus (Keferstein 1867)
Limnodynastes tasmanicus (McCoy 1867)
Limnodynastes tasmaniensis (Gunther 1858)