Philoria frosti
Baw Baw Frog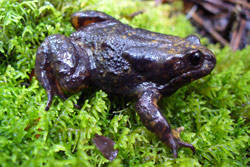 + 65 kb Baw Baw Frog (Philoria frosti)
Victoria's most restricted frog, the Baw Baw frog is only found at high altitudes on the Mount Baw Baw Plateau in eastern Victoria. Inhabiting a restricted and fragile environment this frog is threatened by development and intense use of the Baw Baw Plateau for recreational and forestry activities.
Distribution and habitat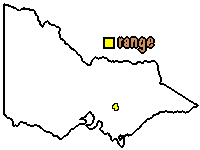 Adults had, until recently, been thought to be restricted to alpine heath and grassland. They have now been found within the moist eucalypt forests which border the Plateau. Tadpoles are aquatic, in alpine bogs and seepages. Eggs may be spawned in saturated sphagnum bogs that later flood.
Calling
Males call from the ground, concealed in wet cavities in sphagnum moss, and under fallen debris. The call is quite variable, a series of harsh pulsing notes with the first note often the longest - "Aaaark kruk kruk kruk".
Copyright Murray Littlejohn. Recorded by Murray Littlejohn. Must not be reproduced without permission.
Life cycle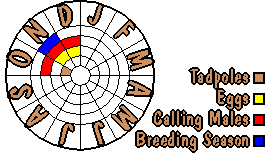 Distinguishing characteristics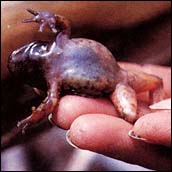 Adult length: 42-55mm.
The unpigmented eggs numbering between 50 and 180 are spawned in a foam nest. Tadpoles carry large yolksacks and do not need to feed. They are also unpigmented with a yellow or pinkish appearance. Adults are characterised by having a large parotoid gland extending from behind each eye over the shoulder. They are dark and often have a highly pigmented smooth belly.
Similar species
Amongst Victorian frogs, only Uperoleia species have a large and well developed parotoid gland and the Baw Baw Frog may be distinguished from them by the absence of any metatarsal tubercles and by its larger size. Uperoleia have both an inner and outer metatarsal tubercle.
Philoria frosti image gallery
Eggs and egg masses (embryonic stage)
The scientific names of Philoria frosti
Philoria frosti (Spencer 1901)